A / B testing
Conversion
Website A / B testing to Drive Conversions
Website A / B testing is useful for defining a more comprehensive conversion optimization strategy and increasing profit. In fact, it involves comparing the performance of two different versions of something to see which one performs better. It's an effective way to determine which version is causing most conversions. That is to say, website A / B testing can help improve your website's conversion rates.
Although, website A/B testing tests help you analyze the performance of almost every aspect of your website. However, you probably do not have the time or budget to test each item. Therefore, you should test the items that are likely to have the biggest impact on your conversions.
In this blog post, we've outlined some important issues to keep in mind when doing A / B testing:
1- Design and Layout
Your eCommerce website must have the best possible design, especially the layout. It has a significant impact on conversion rates. So you need to do A / B tests on the layout of the product page to know which one works best for your brand. Moreover, your website should not distract users and also not prevent visitors from focusing on the desired action.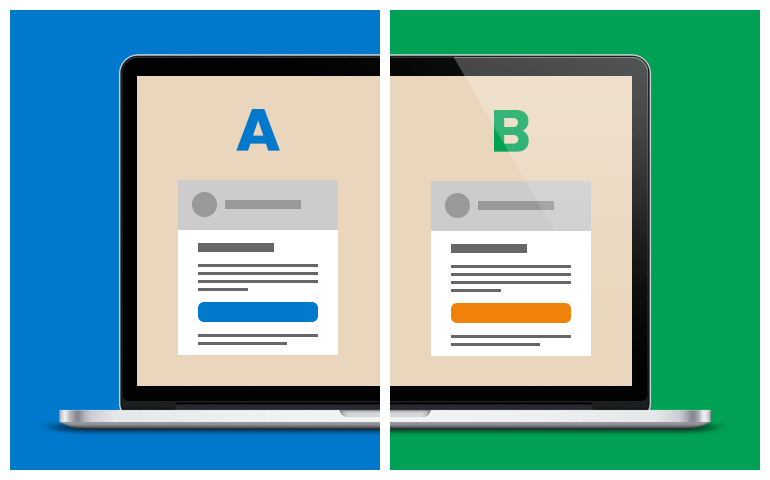 Ideally, your website design should be clean and focused on key elements like sales copy and CTA. It should also be easy for users to navigate and be responsive to adapt to different devices. For the same reason, and to find out which layout will give you the best conversions, you should try different layouts and change the layout of the various web page elements.
2- Headlines
Headlines are one of the first things visitors notice on your site. Hence, your landing page should have a relevant headline that will catch your eye immediately. It should be convincing enough to get visitors to read more and eventually convert. In order for improving the headlines, there are many approaches, such as: using statistics and numbers to increase the impact, keeping it short and precise, highlighting the main benefits, showing a performance or success story, etc.
Headlines tests consist of creating multiple title variations for the same article to find out which results are best. It can be used to track different metrics, such as: number of shares, average read time, click-through-rate, bounce rate, and conversions.
3- Graphics and Images
The purpose of graphics and images is to attract visitors and highlight the benefits of your product and they can have a big impact on website conversion. As with the layout, they should not distract the user from the desired action. Instead, they should guide visitors towards the next action. For the same reason, it is vital to include graphics and images in the A / B test plan of your website.
In addition, images should not just be decorative. They should support your claims and strengthen the desire to buy.It is of paramount importance to test different variations of your images or graphics to find out what's best for optimizing your website
4- Forms
One of the most crucial elements when testing websites A / B is sign-up form. That is why it is important to create a clear and concise sign-up form. Although there is no foolproof method of optimizing registration forms. However, you can try modifying a field title, removing optional fields, changing the placement of fields, using row or column formatting, and so on.
5- CTAs
CTAs are one of the key elements for testing CRO. CTA copies, button color, button size, and button placement play an important role in your conversions. Therefore, you must test all these CTA elements to improve your conversion rate during the A / B test. However, there are  a few things you should consider in your CTA test. The first aspect to be tested is the copy. Since your CTA copy should lead people to action, it should be short, actionable, and direct. In addition, it should preferably focus on what the user is given, rather than what he should do.
We think it is necessary to point out that the CTA copy depends very much on what you sell or offer. So you need to develop some variations and test how each function works. In addition, it is necessary for CRO to test other aspects of CTA, e.g. button color and button size. Therefore, you should test all these elements to make sure that your CTA button is prominently displayed.
Conclusion
Carrying out A / B testing of the above essential elements of your website will ensure that your site campaigns achieve maximum ROI. However, the number of items that you can check during your site's A / B test is not limited to these. You can use other elements such as colors, videos, and so on, as you perform A / B testing of your website and see what works best for your website.
We work together to ensure that your site is positioned for success among competitors. Click here for more relevant and similar posts.
Share on Facebook
Share on Twitter
Share on Pinterest